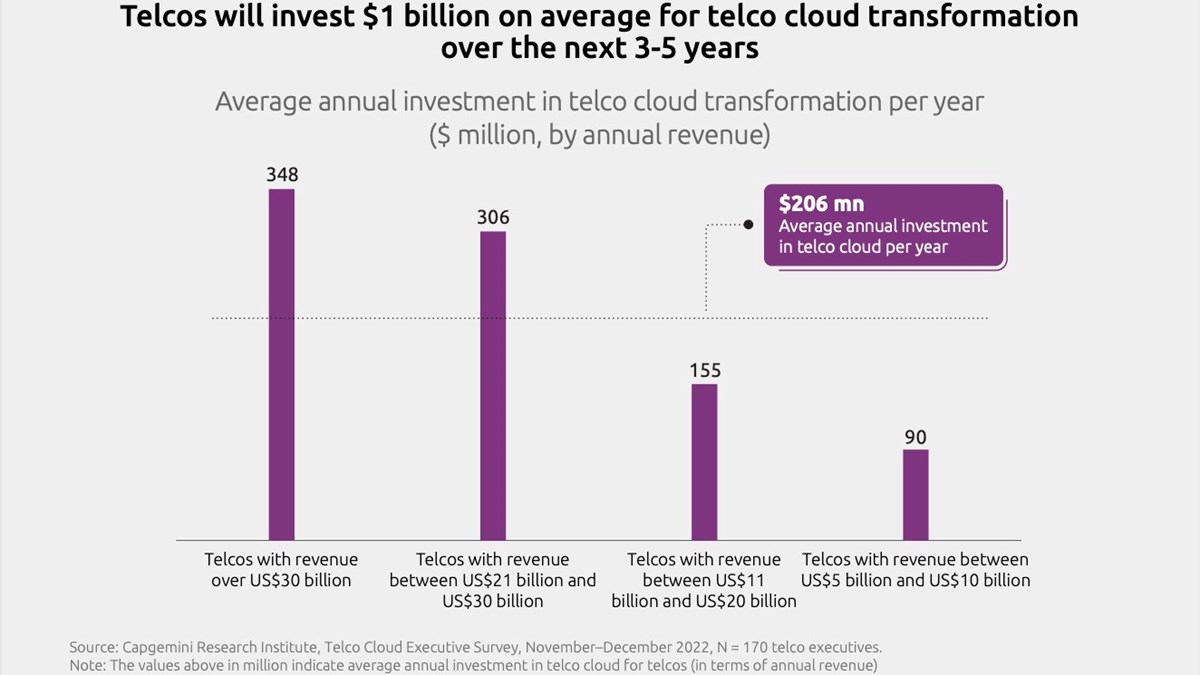 Telecom operators are on course to invest an average of US$206m per year for the next three to five years in the technologies needed for the telco cloud transformation programmes that will support their mobile network strategies, according to the results of an industry survey conducted by Capgemini Research Institute, an arm of the Paris, France-headquartered multinational IT services and consulting company.
The number might seem high, as it suggests a cumulative investment of more than $1bn over five years, but given that this is the calculated average for a telco with annual revenues of about $21bn, that level of investment in the telco cloud capabilities and platforms that will be vital for viable operations in the coming years seems like small beer. In addition, the report suggests that telcos are still very wary of running applications and network functions on public cloud platforms, as "private cloud is by far the preferred telco cloud deployment model," according to the report's findings. 
The numbers are published and analysed in a new and lengthy report, Networks on Cloud: A clear advantage, which is based on the results of a detailed survey involving a total of 270 senior executives of whom 170 were from major telcos, 50 from major network equipment providers and niche equipment vendors, and 50 represented hyperscalers, containers-as-a-service (CaaS) vendors, and large cloud providers. Capgemini also conducted in-depth interviews with 25 top industry executives. 
Capgemini uses the term "telco cloud" to refer to the transition of wireless network functions (such as routers) and domains (RAN and core) to cloud-based infrastructure, while the investments referred to in the report cover capital expenditure, the research and development (R&D) spending associated with cloudification and automation, workforce-related costs, and other expenses.   
Here's how the report presents its telco cloud investment analysis: "Telcos are expected to invest $1.03bn ($206m per year) in telco cloud, on average, over the next 3 to 5 years. For large telcos (with more than $30bn in annual revenue), telco cloud investment will be, on average, $348m per year. Smaller telcos are investing on par with this in proportional terms (ie. share of revenue and network-transformation budget). Telcos of all sizes are investing 38% to 44% of their network-transformation budgets (the total budget set aside by telcos for various network transformation initiatives) in telco cloud. In revenue terms, this is 0.9% to 1.2% of annual revenue per telco per year."
The report also states that telco cloud has "significant business and sustainability benefits" and that the 31% of global telco network capacity available across 4G and 5G networks that is currently serviced completely by cloud-based platforms, will rise to 46% by 2028.
This will still leave a great deal of transformation work to complete, so things are not moving as rapidly as it might sometimes seem. That, of course, was also the case for network function virtualisation (NFV), the process that began more than 10 years ago. While most telcos embraced NFV, it was a slow and painful process, and according to the report, even after all this time, only 29% of telco network functions have been virtualised, even though this is regarded as a key first step in the transition to cloud in "a brownfield transformation". 
The three main drivers of telco cloud transformation, according to the report, are network scalability, reduced network complexity and increased operational efficiency. Lower down the list come the delivery of new services and quicker time-to-market for new applications.
The Capgemini team concludes that amongst the benefits of telco cloud are increased customer lifetime value, the ability to share risk with partners, improved customer experience and financial benefits, which together make the transition to telco cloud a compelling business investment case. 
For example, according to Capgemini, a "typical" telco with average annual revenues of $21bn can expect to optimise network total cost of ownership (TCO) by 13%, thus realising cost saving in the region of $260m to $380m per annum. Furthermore, a telco of that size could also make $110m to $210m in additional revenues by exploiting "early-mover status in markets enabled by cloud-based platforms". 
It just so happens that Vodafone Group, which has annual revenues of around $48bn, recently calculated that it has saved €500m ($533m) over three years from the introduction of cloud-based digital and automated processes – see Vodafone CTO: Network automation has saved us €500m in three years.
On the green network front, the report says that in addition to business and operational benefits, telcos transforming to the cloud can expect to reduce their greenhouse gas (GHG) emissions by 5% in the next three to five years.
Capgemini says its research shows leading telcos are already reaping the benefits of telco cloud, with ambitious early adopters expecting to recover 47% of their investment by 2028, while those that come late to the cloud party will realise only a 34% recoupment of investment costs over a five-year period: Even so, that's a very substantial sum over a comparatively short timeframe. 
Private cloud is the preferred deployment model 
So what role is the public cloud playing in all of this? 
Well, significantly, the results of the Capgemini survey show clearly that private cloud is the "most preferred" cloud deployment model – see chart, below.