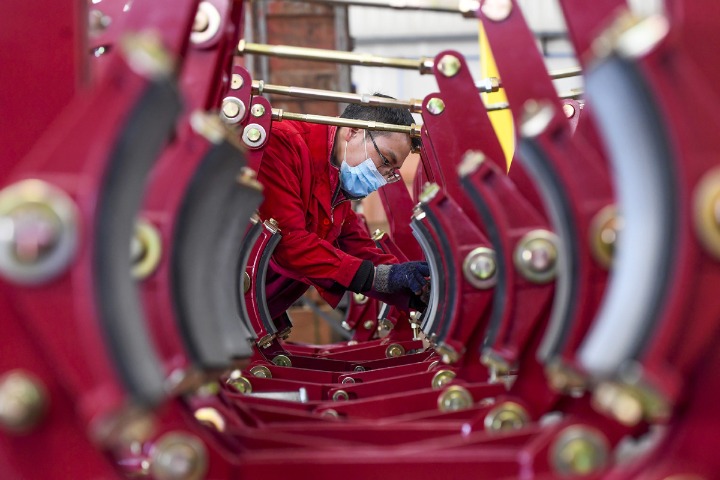 Q2 Which business segment (s) of your company do you expect to see high growth in China this year? What are the new trends and interesting business opportunities in the Chinese market that your company might be keen to tap? How will you align your business strategies with such trends?
CHAN: Foreign trade and cross-border e-commerce play a significant role in China's economic growth. Foreign trade has been one of the major drivers of China's economy for decades and cross-border e-commerce is the new force behind foreign trade, pushing development that will further boost China's economy to rebound and develop sustainably.
FedEx is committed to exploring and investing in new technologies to support cross-border e-commerce growth in China, such as testing autonomous delivery vehicles and deploying AI-powered intelligent sorting robots. FedEx values the ongoing development of cross-border e-commerce that continues to drive accelerated growth and fair international business trading practices will increase opportunities for future development.
LIU: With the deepening of healthcare reform, the whole healthcare industry has been pushed toward focusing on quality, encouraging innovation and improving accessibility. The trend of high-quality growth has brought opportunities for a new wave of innovation in China. Carestream Health has always been committed to being customer-centric and improving patient care while reducing costs and increasing efficiency.
In the next 15 years, we will combine the global strategy with the concept of local innovation, and promote the high-quality development of healthcare services in China with our intelligent and local innovations.
YE: The market for new energy vehicles in China has been expanding rapidly. Given the rise in market share and consumer identification, we believe this growth momentum will persist in 2023 and inject strong impetus into Michelin's development in China.
Today, the market requirements have fundamentally changed. Consumption desire has transformed from "good products" to "pleasant experiences" and "sustainable lives". This transformation brings new challenges and opportunities to all enterprises.
Additionally, Michelin vigorously promotes the concept of sustainable development in China, to help the green transformation of the rubber industry and the realization of China's dual carbon goals.
TAN: We will expand sales channels in the lower-tier city market and plan to open 700 new stores across China in 2023, and we will continue to develop innovative and diversified products based on different age groups. The demand for footwear and clothing products has been changing and becoming more diversified in China. For example, consumers' clothing styles in Shanghai are different compared with other cities. There is no one-size-fits-all solution for designing products in China.
Under such circumstances, our group will continue to create innovative and diversified products based on different age groups and create a unique Skechers parent-child experience through brand renewal, brand culture and targeted marketing.
XU: Green and low-carbon transformation are key to China's high-quality development. Danfoss has successfully improved more than 44 percent of energy production on our own campuses in the past five years, paving ways for industries to decarbonize their businesses.
With only seven years to achieve China's goal to peak carbon dioxide emissions by 2030, we believe every business, especially in the building, transport, and industry sectors, needs proven experiences that will help to decarbonize their growth, which makes Danfoss more relevant than ever. Therefore, with China's reaffirmed dual carbon goals, we see burgeoning business opportunities for all business sectors on the horizon.